Real Solutions to
Complex Problems
Click here or call
(215) 643-7152
Projects
Progressive Engineering & Design, Inc. has successfully completed many projects covering many different market sectors. Our projects consist of standard engineering and design services as well as commissioning, project management, and system evaluation. For example, we provide plan and specification services for architects as well as work with mechanical contractors to troubleshoot and evaluate problem systems. Current projects consist of start-up services for a coca-bean processing plant, plan and specification HVAC design for a power plant in Doha, Qatar, and project management for a pharmaceutical in Chihuahua, Mexico. We employ a staff with very diverse backgrounds in both education and work experience. This allows us to work in many different market sectors and provide a broad array of services.
Toll Brothers, Inc. Corporate Offices
Huntingdon Valley, PA
Progressive was commissioned by Toll to survey the HVAC systems in their 75,000 sq.ft corporate offices to assess their part in extremely high utility bills. We improved their energy efficiency ten-fold by replacing their antiquated dual-duct VAV system, installing an airside economizer in their central air handler and a free cooling cycle on their hydronic system.
As a testament to Progressive's quality, Toll commissioned them to do an additional project on one of their 40,000 sq.ft. satellite office buildings. This project consisted of turnkey services on the mechanical, electrical and plumbing systems. Our responsibilities included engineering, design, preparing contract documents, bidding, scheduling, cost control and project management for all trades.
Arrow International-Clean Manufacturing Facility Systems Commissioning
Chihuahua, Mexico
Arrow International built a new FDA compliant ISO Class 8 clean room for the production of heart catheters in Chihuahua, Mexico. Progressive was originally hired to provide commissioning and validation services, however upon our arrival problems with construction required we assume a project management and engineering role. As a result our two week – two man commitment expanded to a six month hands on involvement. Progressive's roll was all encompassing and included engineering, design, construction management, equipment start up, controls, commissioning and validation according to US FDA certified protocols.
Arrow International-Turnkey Services for Clean Space Humidity Control
Chihuahua, Mexico
Arrow International had an existing clean space for preparing the raw materials used for producing the heart catheters in Chihuahua, Mexico. Progressive was commissioned to survey the existing HVAC systems and evaluate a humidity control problem. We diagnosed the problem and were then commissioned by Arrow to provide turnkey services for a solution. Our turnkey services consisted of engineering, design, contract documents, bidding, hiring subcontractors, ordering equipment, scheduling, cost control, project management, commissioning and validation.
Food Processing International-Plant Utilities Evaluation & Engineering
Eddystone, PA
Food Processing International is a start-up company in the process of opening a coca bean processing plant in Eddystone, PA. Progressive was commissioned by FPI to investigate some suspect engineering, design and construction issues. For a very brief history, this project was a disaster from a scheduling and construction quality standpoint when FPI hired us. Not only were they 18 months behind schedule for production, but even the construction that was completed was of suspect quality. We helped give the job direction by designing solutions the chilled and heating water systems, generating a construction schedule and establishing a construction sequence whereby the project could be completed. We executed that scope of work and continued to help FPI through start-up.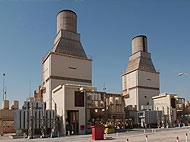 Qatar Electricity and Water Company- Turbine Building Ventilation System
Doha, Qatar
Progressive was hired by the Kuljian Corporation of Philadelphia, PA to design the HVAC systems for a power plant expansion in Doha, Qatar. The turbine building consisted of three 500mW gas turbines and supporting control stations. We designed custom 120,000 CFM evaporative cooling units with self-cleaning filters, which were very suitable for the hot, dry, dusty climate of Qatar. Each unit also had 100% redundancy to allow seamless operation of the turbines.
In addition to the turbine building we also designed the HVAC systems for the adjacent building, which housed the switchgear and transformers. The HVAC system consisted of split-system air conditions, which had to be de-rated for the much hotter climate.
REIT Management & Research, LLC-Electric Heating Water Boiler Design
Philadelphia, PA
REIT was paying an obscene amount of money to the local steam company, Tri-gen, steam to heat their two 40-story building Centre Square Complex in Philadelphia, PA. In an effort to reduce utility costs, they hired Progressive to design a water boiler system for heating the west building. Progressive designed the system around electric boilers that could easily be transported in sections and also didn't require flue piping.
The west tower also had an antiquated constant volume terminal reheat HVAC system. Suffice it to say that that is about the worst system they could have from an energy consumption and occupant comfort standpoint. Progressive designed a new VAV system whereby most of the existing ductwork could be re-used.